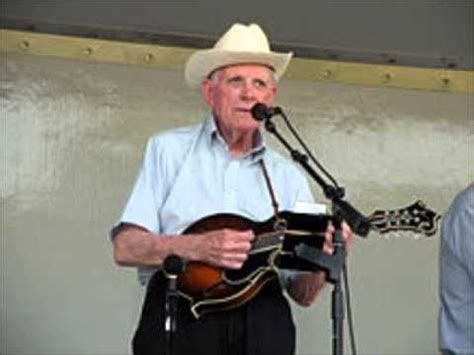 This article originally appeared in Our Sunday Visitor sometime in 2006. I can't find it on the internet so I'm reposting it here. 
Aside from seeing Sonny Rollins, seeing Mac Martin and the Dixie Travelers was the most powerful music performance I've ever experienced. 
The first time I saw him was at the St. Joseph House of Hospitality Bluegrass Festival at Synod Hall in the spring of 2004. He closed with Bill Monroe's "Remember the Cross." Mel Gibson's Passion of the Christ had come out a few months earlier, and you knew Mac had seen it. I remember gripping the seat in front of me, trying to brace from the intensity of it.
I also saw him playing at some sort of community event in Mt. Lebanon. He was playing solo, I think, or waiting for the rest of the band, but he was in front of a bank on Liberty Ave. Occasionally he had to step aside to let someone use the mac machine. I wanted to scream, "DO YOU KNOW WHO THIS IS!"
Then again, how cool is it to be in the Bluegrass Hall of Fame AND go unnoticed. 
Mac Martin: Pure Faith, Pure Bluegrass 
by Mark Sullivan 
Bluegrass legend and pioneer Mac Martin is the exception to the rule that you have to sacrifice having a family life in order to have a successful music career. While other members of bluegrass's founding generation were criss-crossing the country making a name for themselves, Martin had a day job in Pittsburgh where he was helping to raise his five children. 
Martin gigged regularly around Pittsburgh with his band the Dixie Travelers and became a top flight ensemble. International Bluegrass Music Hall of Fame journalist Bill Vernon once said, "Among the great bluegrass bands whose accomplishments have gone largely unnoticed, no group stands taller than Mac Martin & the Dixie Travelers." In 2001, the International Bluegrass Hall of Fame recognized Martin as one of the founders of bluegrass. 
At the age of 82, Martin is still releasing albums, and playing gigs. His recordings are treasured by his fans around the world because, in the words of Bill Vernon, "they play nothing but authentic, genuine bluegrass music." He's increased his touring radius from the 100 mile area around Pittsburgh to include California. His albums are available from iTunes (even though he doesn't own a computer). And no matter where he goes, he still makes it to mass everyday, which he's been doing for as long as he can remember. 
"I'm not a fanatic about going to mass everyday. It's just something I really like to do," Martin said recently from his home in Pittsburgh where he's lived for over 50 years. 
Martin's day begins at 5:15 a.m. so he can pray the liturgy of the hours. One gets the impression he spends the rest of the day criss-crossing the city--a meeting with his weekly prayer group, volunteering at a soup kitchen, going to mass, picking up groceries, and spending time in front of the blessed sacrament. 
Martin likes to experience the variety of spiritualities the city has to offer from Passionist to charismatic--which comes as a surprise coming from a bluegrass purist. 
"It's not a contradiction," Martin explains, "my music and my life are very narrow. I just love the Eucharist. The sacramental life of the Church is my focus." 
Martin, whose birth name is William Colleran, credits his Irish immigrant parents with putting the fear of God into him and making sure he knew right from wrong. He goes to confession once a month at the Passionist monastery in Pittsburgh. 
Listening to Martin describe how he struggles to overcome his pride and ego through regular confession, it's easy see where his music gets the purity that his fans love. 
"What's unique about Mac among the founding generation of bluegrass musicians is that almost everything he's recorded in the past 50 years is still in print. He's still selling records. Not many people can say that," said Bob Artis, author of the first book length history of bluegrass published in 1975. Artis was also a Dixie Travelers in the late '60s and early '70s. 
Martin says the secret to his success is that he never let music come between him and his family. "I think that's how we kept the music so pure. We always had other jobs. We didn't have to commercialize our music." 
His family agrees. "I think my pop brought the discipline of his professional life as an accountant to his music. He is very good at organizing his time and energy," said his son Dan who manages the Dixie Travelers web-site. 
"The common denominator with the faith and bluegrass is that there are so many great people involved. I'm surrounded by great people," Martin said.