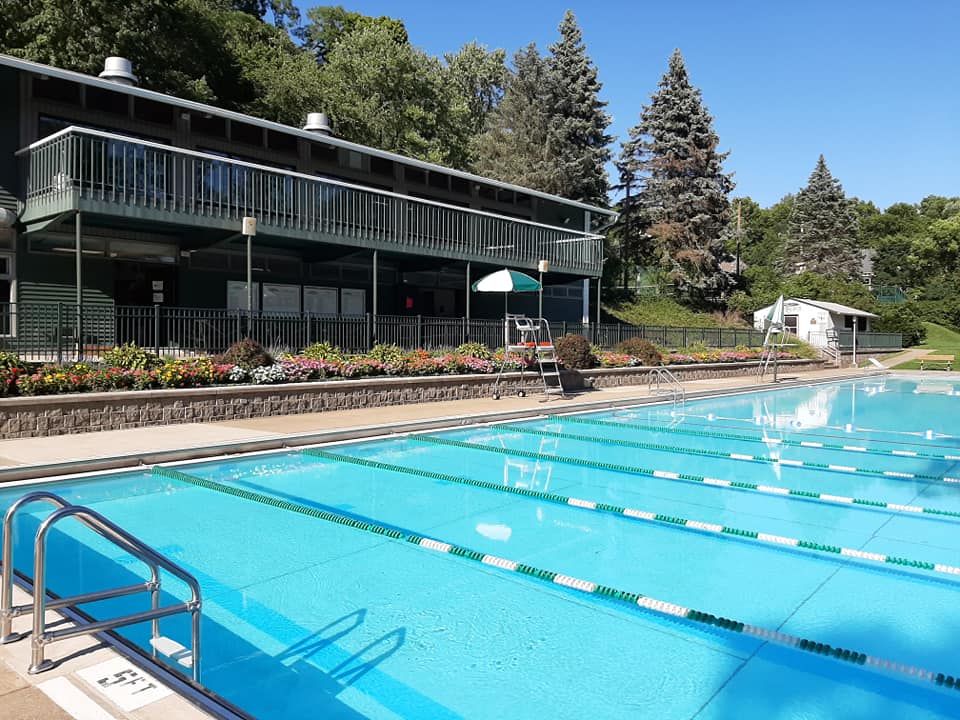 2022 Update: I'm reposting this from last year because it got so many views. Also, the big news this year is that the Forest Hills Tennis Team is back also. 
A friend of mine compares The Forest Hills Pool to a time machine. I can't think of a better comparison. The pool opened in the summer of 1968, and as far as I can tell, it hasn't changed much in over 50 years. It is an oasis on a hill surrounded by trees. A truck downshifting on Ardmore Blvd. is the only occasional reminder that you are still in town. 
There are more than a few families where the parents went to the pool as kids and now they bring their own children. The pool seems like one of those things in life that you can count on always being there. 
As my kids get older, my biggest fear is that they'll outgrow the pool. We won't have our summer ritual of deciding if we go for a swim before or after dinner every day. Will it just be us or will we see our friends there? 
It is just sooo relaxing. It is my safe and happy place. I find myself looking at the calendar and thinking, only three more months until the pool opens, only two more months until the pool opens. It is like the first day of summer vacation when you are a kid. It really is a time machine. 
The pool is always good even on those hot crowded Sunday afternoons where I'm reminded of the first time I took James to the pool, and I didn't know one other person. There are those late June nights with plenty of sun, and we share the pool with one or two other families we know, and then there are the late August nights when my teeth are chattering because it gets so cold. The kids don't seem to mind the cold, though. 
Last summer with Covid, going to the pool was a risk, I'm not sure how much of one, but it was a risk. It was also a risk not to go. What would I be teaching the kids about fear? Fear has a way of perpetuating itself. If you don't jump in the pool the first day, it is harder the second. Pretty soon fear of jumping in the pool becomes its own monster. I know that from personal experience as a kid, and I've had to help my kids work through their fears of the water also. I love watching the kids who held onto me with a death grip in the shallow end become confident swimmers in the deep end - laughing with their friends. As their father, probably the best thing I can teach them is how to deal with their fears. 
I remember when my son was nine or ten and about ready to swim across the deep end of the pool by himself for the first time. He was really nervous, but one of his friends, who was about a year older and a strong swimmer, offered to jump in and swim right next to him the whole way. I can still see the two of them slowly crossing the pool, with Gus offering encouragement at every stroke. There was quite the celebration at the end. I told Gus's mom how impressed I was with his character and how her and her husband must be great parents. 
During Covid, I overheard two lifeguards talking about how the pool was their whole life that summer. All they did was go home and go to work because they did not want to be the one who brought Covid into the pool. I thought that was pretty impressive for teenagers. Nobody had to tell them what the pool means to Forest Hills. They had been going there their whole lives.  
Our band, The Deep Roots, will be playing a benefit concert for the pool and summer recreation activities on Friday, May 6th at the Forest Hills/Westinghouse Lodge on Greensburg Pike starting at 6:00. There will be a 50/50 raffle and direct contributions will also be welcomed. There will be food trucks as well. It will be a great way to kick off pool season.