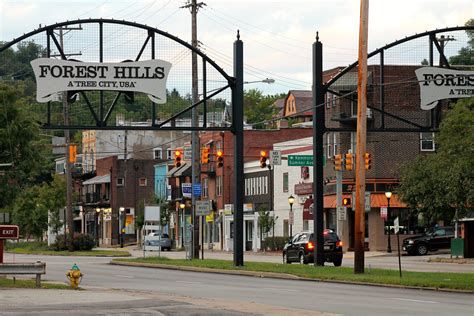 I felt like I could be on vacation someplace far away. Is this neighborhood on VRBO?
Walking around Forest Hills the past two weekends as part of Scouting for Food gave me a whole new perspective. I went down a few streets that I'd never been down before, and for the streets I had been down before, I had extra time to take in the surroundings: Berlin Road, Edgewood Road, Overdale Road, Woodside Road. How about the diversity of architecture and landscaping? 
Several times I had to stop and marvel – I can't believe there is a house like this in Forest Hills. This could be California. I tried to imagine who lives there and what they must be like. Two doctors, both retired.
Even the houses where you needed a machete to bushwhack to the front door. Where a car had been sitting in the driveway since 2006, with two flat tires and 15 years of dirt on the hood. I couldn't help thinking, "what happened here?" Maybe an elderly person fell and never returned home. Maybe spies lived there and they were caught unexpectedly – loaded into the backseat of a grey Ford Taurus at midnight. 
In the morning sunlight, the neighborhood, and my imagination, came to life. 
Mostly I felt like I could be on vacation someplace far away. Is this neighborhood on VRBO? I checked. I didn't see any houses in Forest Hills. And why would someone rent a house a mile from where they live? 
I suppose the coolest thing about going away on vacation is that you get away. A change in venue is always refreshing, even if it is the difference between Alphabet Avenues and Woodside Road. 
Then I started thinking that Forest Hills could be a vacation destination. The pool, of course, several parks, the dog park, Roman Bistro, Drew's, Hanadi's. Maybe not a weeklong vacation, but maybe a long weekend. 
As a pizza snob, I'd love to add iconic pizza shop to the list. I have high hopes for the new place opening in the plaza on Greensburg Pike. Maybe they'll have soft serve as well! But my last trip to a local iconic pizza shop, over 15 years ago, left me and my extended family with food poisoning. A follow-up call to that establishment went badly, as did my call to the health department. 
Everyone knows what I'm talking about, and if half the people love the pizza and half the people refuse to set foot inside, it is still a win for the community. It is something to discuss. Another small detail that makes the community interesting. Things like Pinewood derbies, synchronized swimming, the chili cook-off, community day, the dog swim, the farmers market, and even...an over-educated indie rock band. 
Historically, Forest Hills has got talent. The Allegheny Drifters, a top flight bluegrass band, and Jimmy Sapienza and Five Guys Named Moe, a top flight jazz band were here. Unfortunately, the Allegheny Drifters have disbanded and Jimmy passed away in February. 
So I'll reveal my big secret - the concert for the pool is about more than the pool. Obviously, when ranking the borough's cultural assets, the pool is huge, but I'm hoping that this concert is just the first of many community gatherings to come. 
The details again: 
Friday, May 28th at the Forest Hills/Westinghouse Lodge off of Greensburg Pike. 
Music by The Deep Roots starting at 6:30. Food trucks will be there earlier. The cost is $5 per person. There will also be a 50/50 and other donations will be received. There are events on Facebook also. 
The Deep Roots will play all of the original songs on their debut album, Never Coming Back, and a few new songs that have not been recorded, in addition to a bunch of covers. Roughly a 50/50 mix of originals and covers.  You can listen to Never Coming Back here, on our web-site, or on your favorite streaming site.