I'm a new convert to the Go-Betweens. I noticed that May 6th is the 15th anniversary of the passing of Grant McLennan, so I posted on the Go-Betweens fan page on Facebook if anyone was interested in writing a tribute to Grant. Mark Davies provided me the following tribute. In very few words, Mark gets to the heart of what music can do. You may not be a fan of the Go-Betweens or have even heard of them, but I think everyone can relate to having "go to music." The albums and songs that we go back to over and over again, especially when times are tough.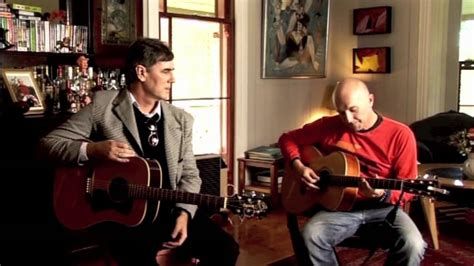 I first heard the Go-Betweens while walking around King's Cross, one of Sydney's shabbiest areas. I was 18, a long way from home and desperately homesick. Two songs had been put on tape for me by a waiter at the restaurant where I was washing dishes. The music may have been melancholic at times but there was comfort there too, and I turned to it. And whenever I've struggled in the 35 years since, I've often turned again to the Go-Betweens to help me through. Never more so than now as I face the challenge of treatment for cancer. 
It's at times like these, when apparently quite smooth journeys through life are suddenly and cruelly jolted, that we need to be able to turn to places where we know we can be certain of comfort and fellowship. Family and friends sit at the heart of everything: without them the journey would feel impossible, and possibly pointless. But other things we've picked up along the way can also be incredibly powerful.  And so I often thank my lucky stars for the way music has been such a reliable and inspirational companion on the highways and byways of my life. 
The Go-Betweens have been one of the most reliable of those companions since that stroll through the Sydney sunshine with Spring Rain soothing my soul. When Grant McLennan died 15 years ago, I cried as though I'd lost a friend. Every time I hear his voice I look to the skies and mourn his passing. 
Why, I sometimes wonder, do some of us become so devoted to people we may never meet, whose work inspires and moves us but of whom we truly know very little? Others, after all, seem more able to appreciate the music they enjoy without idolising their favourites to the same degree. 
I don't know why that is, but I do know that the Go-Betweens form one of the most important pillars of my life. I know that with every twist and turn their music will sooth, make me smile, make me think, distract me and send  a surge of joy coursing through my body in a way few other things can manage. Perhaps they play a role in replacing something which is missing in my life. You'd have to ask my therapist. 
But my view is that it's because there's a kind of edge to what you hear. It never swerves into the wearily predictable and keeps you on your toes. It clunks sometimes, and I mean that well. There's a frailty and uncertainty there which hints at vulnerability, and goodness knows I can relate to that. Sometimes chaotic, sometimes polished. And the striped sunlight sound can also be so profoundly moving and beautiful it takes me beyond music and into spiritual experience. 
Of course it's not just in times of trouble that I turn to them. They are a near constant in good times and bad. Right here. 
Five years ago, on the 10th anniversary of Grant's death, Robert Forster wrote a message on Facebook which I now keep on my phone. It was, he wrote, a sad but necessary anniversary to mark. He went on: "I think of him often; he is not someone who has faded - remaining close to me as he always will be, in memory and music....we were a force together." 
He concluded by sending "warm greetings to all who read this and have Grant firmly in their lives too". 
I'm very much one of those. He and they are firmly in my life. I have navigated adulthood with them always somewhere nearby, not least as a place to go to when it all seems to be going wrong, and that bond is greater than ever now as I try to manage and survive the cancer which has changed my life. 
They are close to me, and they always will be.
You can hear more from Mark on Twitter and on his Medium Page.