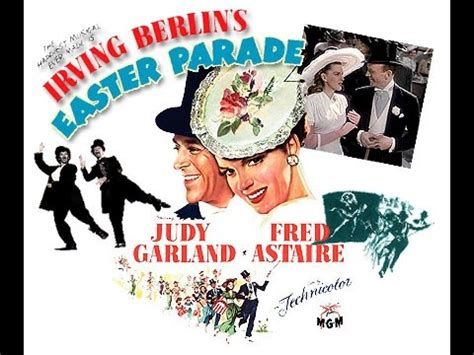 Leisure is not the cessation of work, but work of another kind, work restored to its human meaning, as a celebration and a festival. -Roger Scruton
We watched Easter Parade last night, as has been our tradition on Easter. In my younger days, it was cool to say that I didn't like musicals, but hearing Judy Garland singing Irving Berlin songs, you'd have to be a fool to say that isn't high quality. 
Easter Parade is a good reminder that entertainment can be bright, beautiful, and happy. It is gorgeous to look at, and Judy Garland is something else. 
So I Googled her. My heart sank. She died of a drug overdose at the age of 47. She was married five times and was pretty much broke at the time of her death. How is that possible? 
The Wikipedia article said, "Her self-image was influenced by constant criticism from film executives who believed that she was physically unattractive and who manipulated her onscreen physical appearance." I'd seriously like to punch those film executives in the face. 
This ties in with my two previous posts on The Great Restoration and the sharks out there looking to make a buck on artist's dreams. 
I confess that I did watch some of the webinar on how to make $5K per month with your band. Who wouldn't? So here are a few questions: 
Are you tired of working at your soul-sucking day job? 
Do you find yourself putting more and more effort into your career but seem to get nothing in return? 
Do you want to make a living doing what you can only do now as a hobby? 
Are you the type of person who is edified by a total stranger coming up to you and saying, "Thank you for saving my life?" 
Don't worry, I'm not going to try to sell you anything. But, if you answered "yes" to any of these questions, you'll have the opportunity to fill out an application to see if you can be selected for my special program in which I select only the brightest and most talented people and give them my special secret that I will only reveal here because you are all friends…this is a crock of sh…. Yes it is. A total crock. 
I shouldn't have been surprised to learn that those little robotic chat windows that pop up when you go to some web-sites, "Hi, may I help you?" can be used to promote your band. You can actually buy something on social media that sends those robo messages to highly selected people and engages them in little conversations in the hope that they will buy or click on something. 
I mean, I've known for a very long time that bands can spend a lot of money to puff themselves up to look bigger that they are, so this is nothing new. But why does it still disgust me when it changes form? And why do I feel so bad for Judy Garland? 
It just seems like things have gotten out of order. I've mentioned that I've been reading and rereading Leisure the Basis of Culture by Josef Pieper (Because I'm music obsessed, I find "leisure" and "music" to be fairly synonymous.) I found this quote from Roger Scruton's introduction interesting:
"Leisure is not the cessation of work, but work of another kind, work restored to its human meaning, as a celebration and a festival. 
This is what religion teaches us, and the teaching is as important for the unbeliever as for the person of faith. We win through to leisure. "At the end of all our striving" we rejoice in our being and offer thanks. It is then, eating a meal among those we love, dancing together at a wedding, sitting side by side with people silenced by music, that we recognize our peculiar sovereign position in the world." 
It is possible for anything, even music, to become a soul sucking day job where you feel underappreciated. But it is also possible through the art and music of people like Judy Garland, Fred Astaire, and Irving Berlin, you can get a taste of the beauty that is "at the end of all our striving." It inspires us to go make our own art.