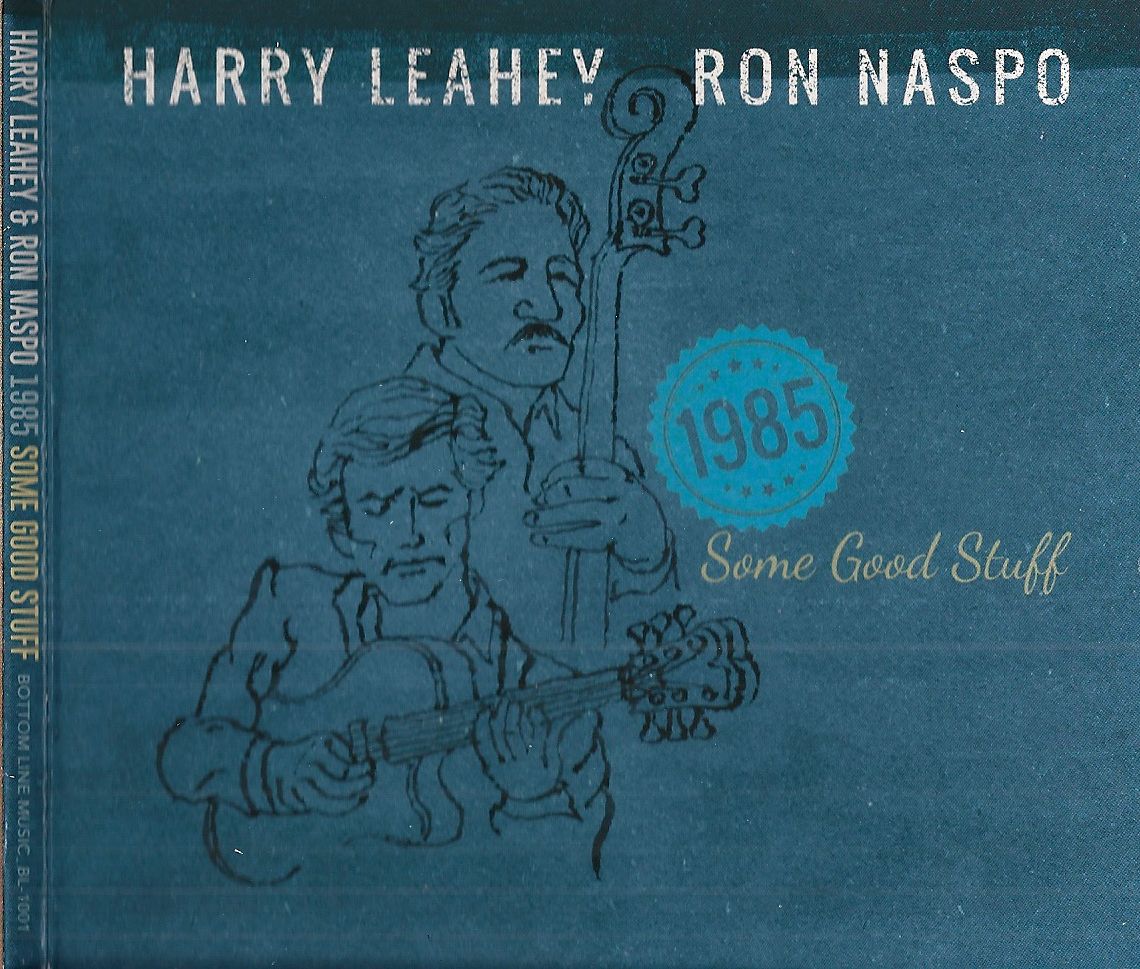 Review by Walt Bibinger 
"1985: Some Good Stuff " Harry Leahey & Ron Naspo
This newly released CD from Bottom Line Music captures a 1985 "Musical Mansions" concert in Montclair, NJ. Bassist Ron Naspo recorded the performance and after coming across the tapes some 3+ decades later, produced it for release. It features 11 tracks of individual virtuosity and musical dialogue between two seasoned musicians who happened to be close friends. The result is a most engaging and welcome listen, being that we lost guitarist Harry Leahey to cancer just 5 and 1/2 years later. The following is a track-by-track review of the music. 
"Back Home in Indiana/Donna Lee:" (Click the title to hear this track.) Leading off is the old standard "Indiana" in a medley with Charlie Parker's line over the same changes, "Donna Lee." Leahey sets the brisk tempo with a chordal, 8 bar intro, and after stating the opening melody of "Indiana" the duo is heard playing the challenging melody of "Donna Lee" in unison, with Naspo amazingly playing the line "arco," (with the bow!!!). Leahey follows that soloing first, taking 2 choruses playing brilliant single note lines. Swinging, melodic, developing motifs effortlessly, while building to more harmonically sophisticated lines that still sound "easy"… in his hands. His 3rd chorus features block chords, octaves, and single note lines interwoven to great effect. Naspo begins his solo with lines that cover the full range of the instrument and spotlight his knack for melodic invention at fast tempos. After 2 choruses, he picks up the bow again, and plays more great swinging ideas with spot on intonation. The duo then can be heard improvising simultaneously, (which it has been this writer's experience playing with other musicians on stage and with Leahey at many a lesson, what we often call a "fugue," though it is not really that in a true classical sense. After a number of rounds of improv, musicians may look at each other and say "Let's Fugue" or just raise an eyebrow and ask…"Fugue?"). They continue in that vein for a second chorus, where their dialogue becomes even more conversational, like an improvised counterpoint or 2-part invention. They close out the 6:09 track with the head to Donna Lee, Naspo still not having put down his trusty bow! An amazing performance to open the concert and the CD! 
"Hot House" Continuing with another BeBop classic written by Tadd Dameron over the form of an old standard, "What Is This Thing Called Love," the duo reverses the format from the opening track by playing Hot House and then playing "What is This Thing"…..again in unison for the first chorus then, Harry states the Cole Porter melody before beginning his solo with some blistering single note lines. He continues with some great octave and chord soloing, proving all aspects of Harmony, Rhythm, and guitar-istic techniques were at his beck and call, always to be used in respect of the song and with great musicality. He winds down his solo and immediately switches to chords/walking bass lines to provide accompaniment to the bass improvisations. Ron plays 2 choruses arco, once again displaying great intonation, and lines full of harmonic sophistication and melodic invention.@4:55, the duo begins "trading 4's," with Harry kicking things off by quoting "Perdido" with a chord melody! As the duo proceeds, the "4's" once again become more of an improvised "fugue," and after some cool, duel ascending chromaticism ,Naspo goes back to "pizzicato," (plucked), playing in anticipation of playing the head out in unison. 
"Jitterbug Waltz" Fats Waller's swinging waltz starts off with a solo, rubato intro from Leahey. Following the melody as the guitarist begins his solo, bassist Naspo approaches the accompaniment in conversational mode, both musicians listening, reacting, and playing off each other's ideas. The bassist plays a swinging walking bass line after that. By his 3rd chorus Leahey is superimposing 7#9 and blues concepts over the chords. In his 4th chorus he introduces a descending, double stop riff, leading to the bass solos. Naspo takes a few captivating choruses, and we hear Leahey reintroduce the descending double step motif now re-invented as accompaniment to the bass improv. The melody is then played in unison for the first half of the form, and Naspo deftly harmonizes it for the 2nd half. The duo then tags D to G dominant chords for a spirited, bluesy finale.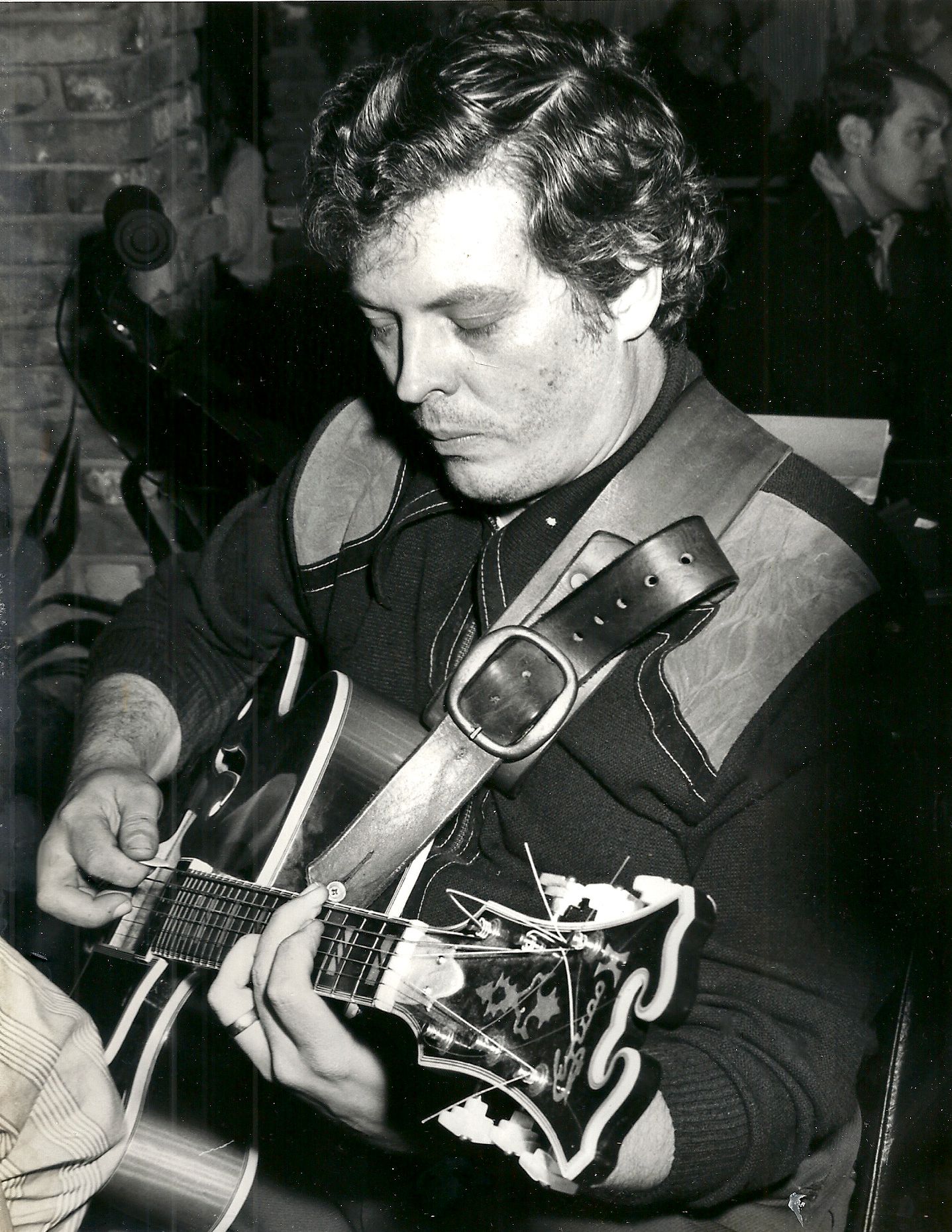 "So In Love" Cole Porter's standard features a rubato guitar intro leading to a statement of the melody at an "up" tempo, the bass pedaling the bridge to great effect. Leahey soars through a number of single note choruses, each brilliant and building in intensity, switching to some chordal improv before switching back to single notes to finish. Naspo makes the most of his choruses with strong, imaginative lines and a big tone. The out head reprises the pedaling in the bridge, followed by great chord playing from the bassist during the final statement of the melody. A "turnaround" ending provides another platform for some dazzling improv from Leahey as Naspo's strong walking drives the tune to conclusion with a fun, deceptive cadence ending. 
"Nuages" Guitarist Django Reinhardt's "Nuages" is a familiar favorite of Leahey's. It was a featured solo on the Phil Woods Quintet direct-to-disc "Song for Sisyphus," released in 1978 and heard in many of Harry's club and concert appearances throughout his career. This captivating ballad performance starts with a solo tour through the form. Bassist Naspo enters for the second chorus, as Leahey begins his improv. After an expertly executed 3 and 1/2 octave, Johnny Smith-like line, Leahey curls his right hand fingers and allows the pick to fall gently into their grasp, seamlessly… now crafting gorgeous lines using his thumb to pluck the strings. The resulting tone is both thick and expressive, drawing the listener in. After about 6 bars, he once again has his pick at the ready for a repeated staccato lick and more impressive single line work. His conception and realization of harmonically complex ideas and flawless execution of them "in the moment" illustrates that Harry Leahey is certainly among those who have achieved the highest level of jazz improvisatory and musical skill. The solo closes with impressive chordal and rhythmic exploration. The improv winds down after the 1st half of the form, Leahey re-introducing the 2nd half of the melody using his thumb. We once again hear the guitarist switch back to his pick, as the duo draw the form to its conclusion. The ending features single note flourishes, chord melody improvisations using "hybrid" picking, (where both the pick and fingers are utilized), and a descending/ascending "diminished/whole tone"- harmonized chord scale over cycle chord changes, both instruments pedaling a low G . Naspo's bass is the receptive and responsive canvas which enables Leahey to paint his masterpiece. 
"Armando's Rhumba" Chick Corea's composition is a delightful change of pace after the serene beauty of "Nuages"….up tempo and joyously playful…The duo plays the melody in unison, Leahey moving up one octave for the 2nd rendering while adding double-stop harmonized 6th and chordal ornamentation while Naspo uses his bow. The guitarist continues that approach through his choruses, mixing single notes, harmonized double and triple stops, octaves, and chords. Naspo, after playing pizzicato during the guitar solos, picks up the bow for his improvisations. His solo dances and dives melodically over the Latin feel propelled by Leahey's rhythmic accompaniment. The duo takes out the melody in unison and provide some interesting variations on the theme to close out another outstanding performance. 
"What's Your Story, Morning Glory" Pianist Mary Lou Williams' blues begins with bass setting the groove as Leahey plays some subtle harmonics. As Leahey states the melody you can hear the guitarist's unique sound and approach to blues playing… never cliched, always inventive, yet steeped in the tradition. Leahey masterfully builds his solo, incorporating some incredibly fast single note runs with his loaded canon of ideas and techniques. His use of block chords once again being particularly impressive. Bassist Naspo is heard bowing a series of "trilled" notes to open his improvisations, leading down to the depths of his instrument's range. He plays bluesy melodies featuring swoops and slides, remaining mostly in the lower range, showing his love and knowledge of the Blues. As Leahey re-introduces the melody, Naspo plays an arco line employing "tremolo" technique, a rapid back and forth movement of the bow. As he continues that through the form, Leahey can be heard using that same technique in response. An understated and emotional approach to the final melody closes out with a tagged blues ending featuring contrary motion between the line and chordal accompaniment being played by Leahey simultaneously… Oh,Yeah! 
"You Stepped Out of A Dream" As this standard begins, Naspo plays a bass figure through the form as Leahey gently comps. Another round through the 32-bar form has the guitar alternately echoing the bass motif and improvising. The melody is introduced for the 3rd chorus with beautifully voiced chords. The guitarist improvises 2 choruses using single-note lines, building to his 3rd chorus. It begins with a series of "double-stop" phrases eventually incorporating chords and octaves, leading to a "stop" chorus, where Naspo plays a series of staccato "hits" before dropping out completely… Leahey soars solo for a stunning chorus, then is once again joined by the bassist for one more mainly chordal trip through the form. Ending with a patiently ascending chordal motif, Leahey passes the baton to Naspo. He begins his first chorus with impressively fleet, well executed lines that lead to his own "stop" chorus. The bassist's unaccompanied exploration of the form clearly displays his command of harmony, melody, and technique . The duo both improvise during the final blowing chorus before going back to the head, now modulated up a whole step to the Key of D. They end with a rhythmic tag of the tonic Dmaj7 chord moving, alternatively, up a half-step/down a whole step to enthusiastic response from the engaged and attentive audience. 
"Send in the Clowns" No stranger to this Stephen Sondheim composition, Leahey opens with a brief, yet rich and full intro to set up Naspo's bowed melody. Ron's tone and intonation are pure and expressive. The guitarist had recorded this as one of two featured solo performances on his 1980 trio release "Still Waters," (OmniSound N-1031 ). Ron Naspo writes in the liner notes that he studied guitar with Leahey at this time. His comfortable and sensitive rendering of the melody retains some of that arrangements feel… the guitarist comping knowingly. The duo set up a vamp at the conclusion of the melody, not unlike on the solo recording, and similar to the vamp end on "Jitterbug Waltz",(track3). Leahey builds it to a Gospel feel as Naspo bows improvised melodies gloriously. The next statement of the melody is Leahey solo, playing familiar approaches and always finding something new. We hear Naspo enter employing his bow, tremelo low tones and overtones, leading to his arco melody in unison with Leahey's solo chord melody arrangement. The final statement of the melody is breathtaking… bowed bass that exhibits gorgeous tone, range, and emotion with impeccable intonation. Leahey's 4 fingers operate as a string trio/quartet , playing beautiful accompanying lines…..The duo respond and work as one, other times working as independent, complimentary voices, and often sounding like more than 2, grant it,… virtuoso, musicians. 
"CC Rider" Blues lines and chords by Leahey open up this folk blues first recorded by Gertrude "Ma" Rainey and issued in 1924. It has been much recorded by artists in many genres since, and the duo put their own unique stamp on this classic. The extended solo guitar intro eventually establishes the groove and tempo as Naspo joins in. He plays his bass lines percussively, slapping and popping the strings as Leahey explores the melody and improvises. After a number of exhilarating choruses, the guitarist sets up Naspo's improv with some rhythm breaks allowing the bassist plenty of room for bluesy, funky, and catchy lines. The duo trade a series of 8 bar phrases over the form leading to one more chorus where Leahey plays some major and minor 2nd double-stops. The melody is heard once more as the ending features a familiar, but far from cliched, blues ending. 
"Jumpin' at The Woodside" A swinging uptempo version of Count Basie's Big Band classic closes out the disc. After Leahey's statement of the melody featuring chordal stabs echoing the big band arrangement, the guitarist takes a few choruses of stunning single-note lines with Naspo's walking bass firmly driving things forward. The bassist drops out leaving Leahey solo for a jaw dropping chorus, then rejoins for one more as the guitarist builds to a chordal climax, making way for the bassist's solo turn. Naspo plays inventive lines making full use of his formidable technique and musicality leading into some trading of 4's,the 2 echoing and leading each other on to joyous heights. After blowing simultaneously over the form, Leahey introduces a big band, shout-like group of notes and chords as Naspo, taking the bridge solo, reaches the heights of his instruments range. The duo then modulate up a whole step from the Key of B-flat to C. A final swinging romp through the form brings the concert,and CD ,to a rousing finish! BRAVO! 
For those interested in obtaining a copy of this music, I must inform you that some slight tape hiss is audible, but it does not detract from the musical experience. If one listens to the music closely it all but disappears as the ears adjust to the musical sound of the instruments. For info on purchasing a copy of this disc, contact: RonNaspo@verizon.net