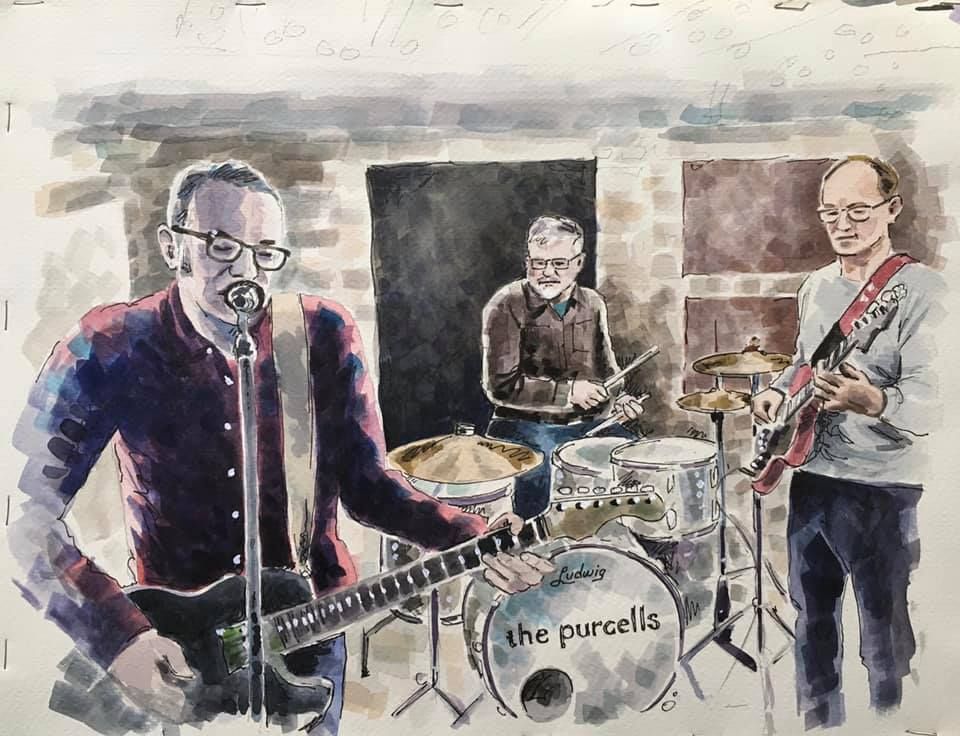 The Purcells - Watercolor by Bill Goodwyn (It makes it look like a story in The New Yorker)
On Friday, February 19, 2021, The Purcells, released their latest EP, Landscape Listens. A few days later, I stumbled across it on Bandcamp under a "You may also like" heading. I usually scoff at those suggestions. But I liked the name and the cover so I gave it a listen and then another listen. 
Then I clicked their Facebook link, saw that they listed The Feelies as an influence, and I had already heard some Uncle Tupelo, so I sent them a message to the effect, really like the EP, if you had listed Uncle Tupelo and The Vulgar Boatmen as influences I would say that we are brothers. 
There was zero doubt in my mind that they were fans of The Boatmen. I just know these things. Guitarist Al Hennagir replied back a few minutes later, "We opened for The Boatmen!" So I interviewed the whole band. 
This is how music works these days. We may have lost some of the mystery that surrounded a band before the internet, but it has been replaced with connection. When that connection reinforces the idea that making great original music, having a day job, and a family are not mutually exclusive activities but blend together pretty well, I don't think much is lost. I see it more as a restoration of how music has been made as long as humans have been making music - The Beatles, Nirvana, and some others are the exceptions. 
Listening to Landscape Listens, I'm reminded of T.S. Eliot in, Tradition and the Individual Talent, "the past should be altered by the present as much as the present is directed by the past." I can hear the influence of the late 80s and early 90s, but it sounds better through The Purcells. I've been going back and listening to some of those albums that had gotten stale and now they seem to come to life again. It reminds me of why it is so much fun to discover a new band. It gives you a whole new way of listening to things.
I'll also add that in listening to The Purcells' back catalog, I've yet to hit the skip button.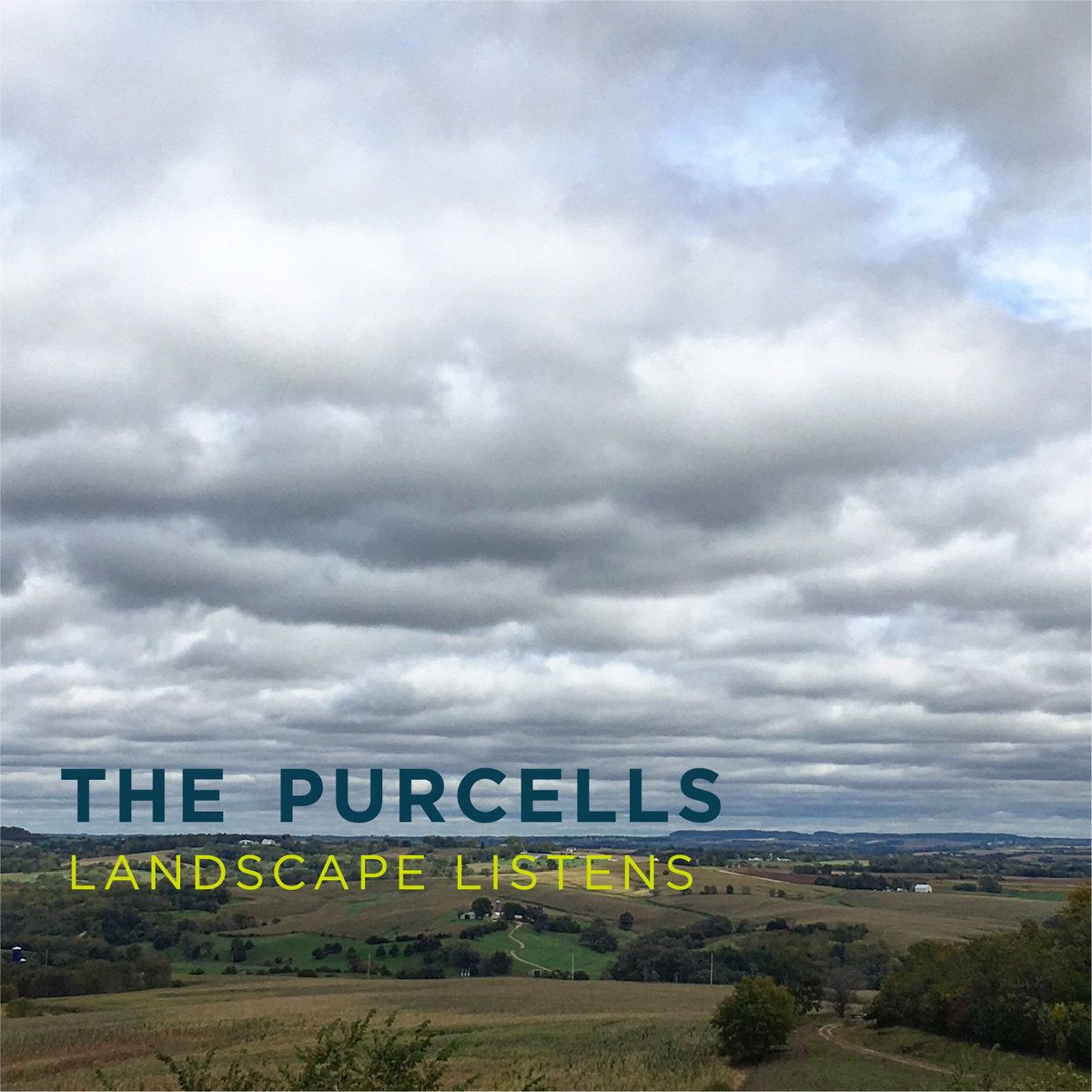 Al Hennagir (vocals, guitars, percussion, glockenspiel) 
How do you fit music into family life and working full-time? What criteria, if any, do you use to keep things in balance? 
I've been fortunate that my family recognizes how essential making music is to me. They get that it's an important outlet and that I'm in a better place if I spend time writing, recording, or practicing with the band. They've also come to understand that anything creative takes a lot longer than you think it's going to take, so I never feel like I'm "on the clock." I've definitely been in bands where people make it clear they have plans and only have a limited amount of time—that always bums me out. As far as band practice goes, it seems to make a huge difference if you have periods where you play once a week, but that's not always realistic as we get older. I try to spend time writing or recording if my band mates can't make it to practice for whatever reason. 
Has your formal education helped? 
I graduated with a BA in English from the University of Iowa. Although I was never in the Writers Workshop, I had friends that were and I was always surrounded by creative people whether it be writers, other musicians or visual artists. Because of that, I've always kind of felt that if you weren't creating something, you weren't really doing anything worthwhile—I know that sounds harsh. Reading fiction and poetry definitely gives me inspiration for music. It's usually not a deliberate thing. It's more like I'll be playing some riff or cord progression on my guitar, and I'll start mumbling some kind of vocal melody. Sometimes a line from a poem I haven't thought about in years will make its way into a song. I guess another thing I took away from having short stories and poems workshopped in undergraduate classes is that you need to keep revising—they're never done. My bandmates take that pretty seriously too and we're always trying different ways to approach both new and old songs. 
What role did your family play in pursuing your art? 
My mom and stepdad were always super supportive of me playing music. They were music lovers and they thought it was great that someone in the family was actually learning an instrument. My mom has  a pretty good ear for music—I still talk to her about old and new music. They made sure I had a decent acoustic guitar to start with and eventually got me a used electric from a family friend. It was a ¾ sized Gibson Melody Maker with a Fender Champ amp. The first distortion I had was from the blown speaker in that Fender Champ. My folks were also okay with my high school band, Bob White and the Quails, practicing in the basement--at least until another band member's parents got talked into hosting. 
How often do you play out and where? 
We try to play out at least once a season so we don't wear out our welcome with our friends. Before Covid hit, we were playing a bit more often with bands that we're friends with like Embassies and I Lost Control. We were lucky to open for our heroes, the Vulgar Boatmen, at Schubas Tavern and we've played with other bands there as well. We've also played at Montrose Saloon, a dive bar turned into a great artist venue by a local musician. Cary's Lounge is another great dive bar with a little stage in the window—we love that place! Something about it being a long bar without too much sound proofing makes it sound like our basement practice space. The owners are very accommodating and supportive too. We've played several Mayfest and Oktoberfest gigs put on by Begyle and Dovetail Breweries here in Chicago. In the last couple years, we feel like we've been fortunate to be part of a small group of bands, artists, and radio station folks that are very supportive. Since last spring we've been practicing in our back driveway (socially distanced) off the alley. At first, we worried that neighbors might complain, but instead they brought lawn chairs and six packs to hang out and listen to us play. They all have said they were thankful to hear any live music during this crazy time and several are always asking when we were going to play next. That was one of a few bright spots during the last year. 
How are you able to record? 
We typically record the basic drum and bass tracks in the practice space in my basement. I use Logic Pro with a Focusrite Scarlet 2i2 to do guitar and vocal overdubs and for the last record I upgraded the mic preamp to a Golden Age Pre-73. I have a couple condenser mics and a few SM57s. I try to mic up real amps if I can, but if it's late at night I sometimes end up plugging straight into the interface and using the plugin amps on Logic. Sometimes I'll record those later if I remember how to play the parts! We paid engineers to mix and master all three of our releases. Mike Hagler of Kingsize Sound Labs mixed and mastered our most recent EP, "Landscape Listens." It's always great to hear the mixes of someone who really knows what they're doing. Before everything shut down last spring we had just recorded the basic tracks for a handful of songs, so I had plenty to work with for a couple of months. That was a great distraction at the time—I wish we had gotten more songs done. In the end we decided to put out an EP instead of waiting to get more tracks recorded. 
Any final thoughts? 
Thanks for taking the time to listen to our music on BandCamp! That's one great thing about the internet right now. It is cool that there is a scene out there comprised of folks with day jobs really putting the time in to put out good music and play shows. 
Bill Goodwyn (vocals, bass, keyboards)  
How do you fit music into family life and working full-time? What criteria, if any, do you use to keep things in balance? 
Family comes first, but my bandmates are extended family, so they get a lot of consideration.  We all have reasonable expectations about what we can handle, in regards to making time for music. 
Has your formal education helped? 
I got my BA in Graphic Design from UIC and my MLIS from Dominican University, and the discipline I learned in those two programs helps in all aspects of my life, but in music particularly, because songwriting and performing are often about design and organization.  I want songs to work out in a sensible way. 
What role did your family play in pursuing your art? 
My family is very musical, and my parents encouraged my participation in music from the very beginning. 
How often do you play out and where? 
Maybe four or five times a year, in cool dive bar/music venues in Chicago. 
How are you able to record? 
We record basic tracks together (in non-Covid times) and often refine those tracks at home. 
Any final thoughts? 
Music calms me down and excites me at the same time. 
Don Yanek (drums, percussion) 
How do you fit music into family life and working full-time? What criteria, if any, do you use to keep things in balance? 
Great question. It helps if you are friends or at least enjoy hanging out with your bandmates. We've all known each other for a long time and have similar interests and intersecting musical tastes. Rehearsing and playing shows is just as much about hanging out together and laughing as much as it is about playing music. Also, I've been playing in bands since high school – so it's just part of who I am. It would be weird for me not to be in a band. My family just accepts/expects it. 
The pandemic has made it tough to get together. I listen to a lot of records, but I still get to a point that I really need to play the drums; play with the band. 
Has your formal education helped? 
I studied math and computer science. Songwriting, arranging and playing are all really algorithmic at their essence. For me, the bigger influence or help has been collecting and listening to records. I'm a bit of a fanatic.  Bill and I were college roommates and played together in two previous bands...see answer to question #1.  
What role did your family play in pursuing your art? 
Growing up, there was always music playing in my house. My parents encouraged us to participate in the school band. I started playing drums in 4th grade and got my first drum set in 8th grade. I started my first band, the Classifieds, in high school with 3 friends (see answer to question #1).  We rehearsed in the basement every week – my parents never ever complained about the noise.  
Now, my wife and kids just think of it as normal, typical behavior – Dad's going to band practice.  
How often do you play out and where? 
We try to play at least once a quarter. I prefer the smaller bars or clubs. They're more fun.  
How are you able to record? 
Speaking of the drums, we've gotten pretty good at using just 2 - 3 mics for the whole kit, usually just the bass drum, snare and an overhead.  
Any final thoughts? 
Don't get Al started talking about guitar pedals.