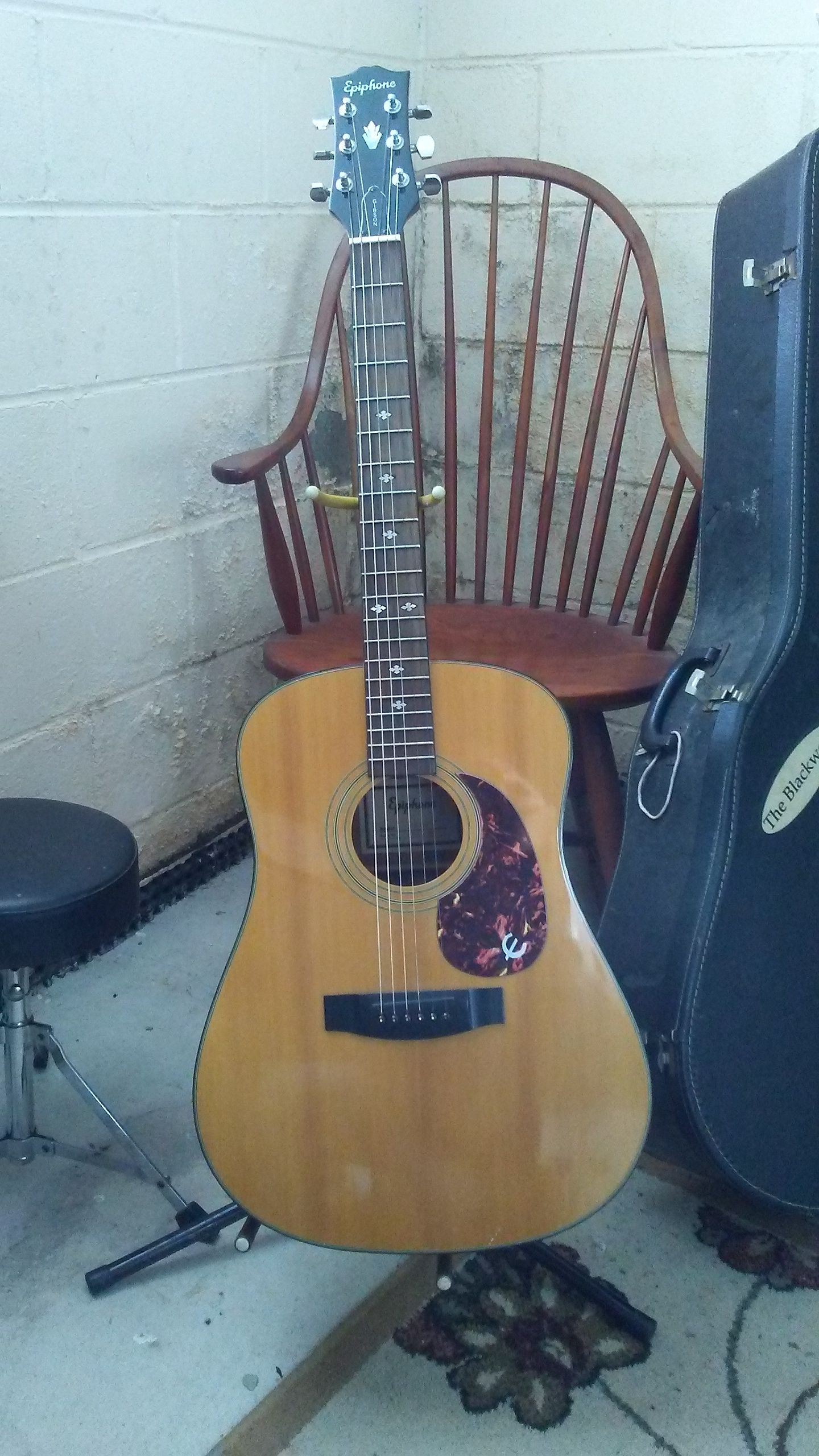 Note: This post was written by the guitar pictured above. I, Mark Sullivan, had nothing to do with the content or characters described below and take no legal responsibility.
Mark is not a nostalgia kind of guy, so I've been bugging him to let me say some things. I have a lot of time to sit around and reflect. 
Thirty years ago Mark Sullivan bought me at the House of Guitars in Califon, NJ. I was a birthday present to himself. He was with his friend Troy because he didn't know how to play yet and needed someone else to tell him if I was any good. Troy had purchased one of my cousins six months earlier and let Mark borrow his old guitar for the summer, and he caught the bug. 
Mark also signed up to take lessons with Walt Bibinger, the House of Guitars teacher in residence that day. I used to love hearing Walt talk to new students. He'd tell them that he was preparing them to play the guitar for the next 50 years, and he was teaching them to play what THEY wanted to hear. Guitars love that. 
The important thing for me is to be there for Mark. I learned that from Woody and Buzz Lightyear when Mark used to take me with him to babysit his cousins. 
I was there when Mark and Drew got together for the first time and played some Velvet Underground songs, that is what you did in 1991 if you were starting a cool band. Drew said, "If we are serious about this, we need to go buy electric instruments…right now." Off they went. 
I was there when Mark wrote his first song, "Lone Coal Miner." 
I was there when Mark wrote "Macy's Parade," maybe his best song with The Blackwells. He was finishing it up, and Dave came running up there stairs and grabbed me, "Hey, Sull, check this out," and he played "B-Movie," a great tune. Then Mark played him "Macy's Parade." I can still hear the two of them laughing. At the time, those were the best songs those guys had written. Watching people reach their potential is what guitars live for. 
There were dark times too. I sat in the basement for two years without being played while Mark was learning French so he could move to Paris. Never could figure that one out. But that ended happily when Mark started taking lessons from D.C. Fitzgerald. What a character! If Mark wasn't so uptight about his blog I could tell you some funny stories. 
I've never forgotten that I'm an entry-level guitar, but some things still hurt. Mark had his first lesson with Ernie Hawkins, and Ernie said, "You can play, you just need a real guitar now. You need to get a Gibson J-200." Mark had gotten pretty good at that point and needed a professional instrument. He plays the J-200 pretty much every day and hasn't looked at another acoustic guitar since. I got a scare when Mark put together all of his guitars to trade in for the J-200. I was in the pile, out of the pile. In the end, there were too many guitars to carry. The 12-string Rickenbacker got traded in, but I was left behind. I still hear him whining about the Rick, but I tell him, "Guitars are meant to be played. You never, ever, played the Rick." It was eye candy. 
The purchase of the J-200 was a major change for me. Once it came to the house, I got left at Celeste's apartment. It was unsettling at first, but Mark came by and played me every day. Then I started to enjoy being dusted regularly, the lack of clutter around me, the delicious smells coming from the kitchen, and especially all of the laughing and giggling. Mark was playing the Rev. Gary Davis song, "Oh Glory How Happy I Am" all the time. I felt like I had my spot, and my presence signified that something much bigger was going on. I'll never be "The Strat" in Mark's life but I'm important. 
Everyone needs to be reminded how at one point going from a G chord to a D seemed like an impossibility, but with steady effort day after day it becomes second nature, and you really value the acts of kindness and encouragement you get in that day to day struggle. 
So besides being the director of nostalgia around here, I'm Mark's travel guitar. Two summers ago helped him write "500 Miles to Philly" while we were in Delaware. If you ask me, it may be his best song, but he still hasn't really played it for anyone. I still have work to do. You'd think by the age of 50 humans would get some confidence. All an old guitar can do is try to stay in tune.