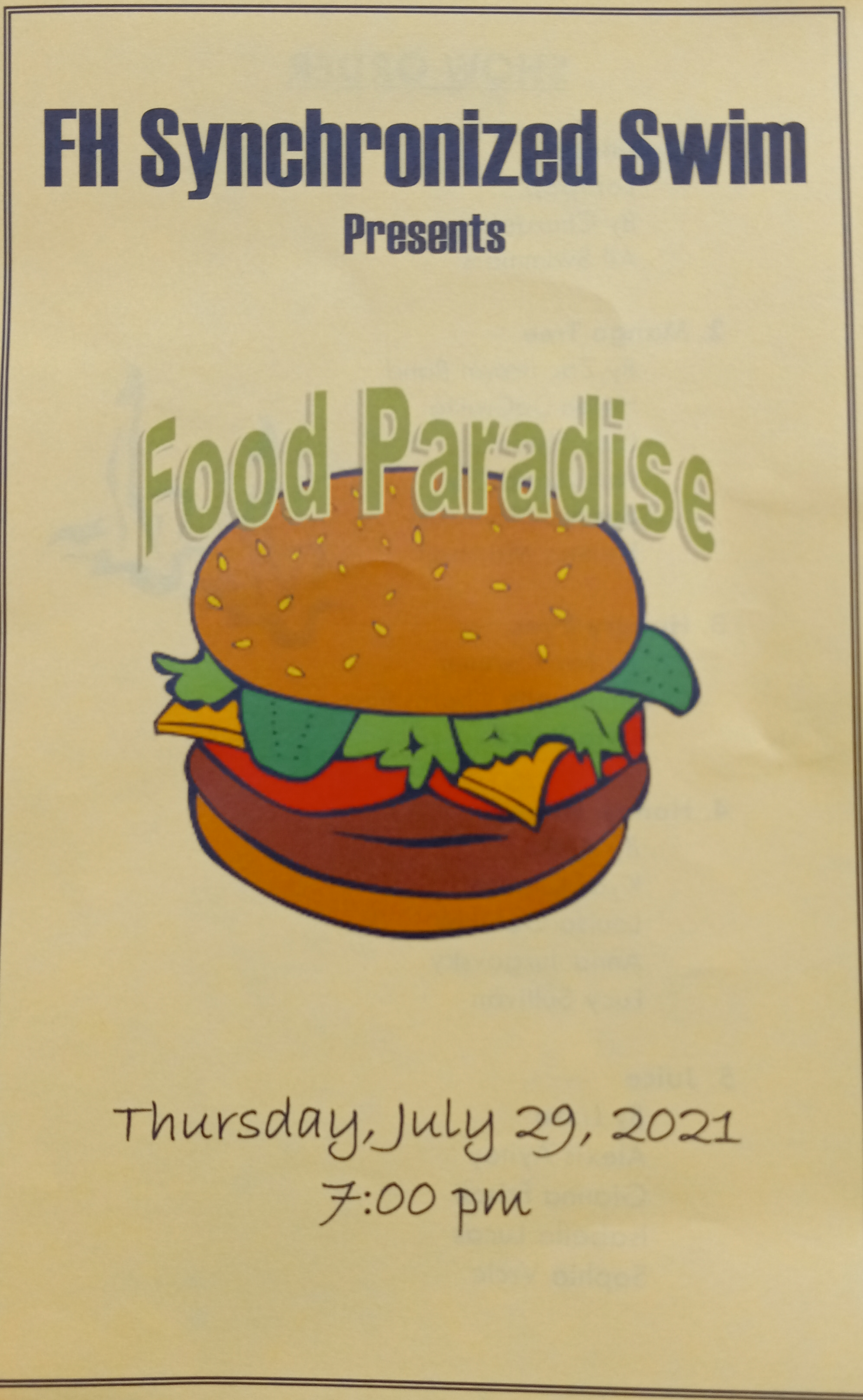 Synchro fills a certain niche that you never knew there was a need for.
For years, Celeste and the kids would hear the songs and catch glimpses of synchro practice as they walked over to the tennis courts each morning. We've heard the stories about the Forest Hills Synchronized Swim Team and watched them put up decorations as we left the pool early, but our kids have never been interested. It was a big event that we were never part of. 
Synchronized swimming was in general a mystery to me. File it under one of those sports that is in the Olympics but that normal people never play, like bobsledding. 
With no tennis this year, we asked our daughter early on if she wanted to try synchro and received a definitive "no." But one night as we were leaving the pool, some of her friends were coming down the steps for the start of synchro practice, and she was not behind me anymore. She was standing at the railing watching. 
"Do you want to try synchro?" 
"No." 
"Do you want me to get more information?" 
"Maybe." 
The next time we were at the pool the assistant coach talked to Lucy and told her all about the synchro show and getting dressed up and that there was no pressure to do any flips or underwater moves she wasn't comfortable with. So Lucy decided to go to one practice to check it out. 
Fast forward a few weeks and Lucy has her stuffed animals doing synchro routines. 
One of our friends observed quite accurately, "synchro fills a certain niche." A niche that you don't think needs to be filled until you see it being done so well. Then you wonder how you ever lived without it. 
One of the routines was to "Hungry Eyes" by Eric Carmen from The Dirty Dancing soundtrack. I remember my sister and her friends dressing up and putting together dance routines to that album when I was growing up. Back then, if someone would have suggested doing those routines in the pool, where you could do some serious flips and ballet moves, and put on a show for the whole community where you got to wear a costume and make-up…total nirvana. 
This year they were apologizing that it was scaled down because of Covid. I can't imagine what a full-scale production would be like. 
I think the most remarkable thing about the program is perfection of the tone. The program is highly-organized, the swimmers are expected to listen, and they take on some ambitious routines, but it isn't "next stop Olympic Trails!" It is the perfect balance of serious and fun. 
Afterwards I was talking with our mayor, Frank Porco, whose son performed a heart-stopping, and unexpected, flip off one of the lifeguard chairs as part of the surprise lifeguard routine, and he said that the synchro show is one of the things that sets Forest Hills apart from other communities. Having now seen it, I couldn't agree more. 
You also can't underestimate the value of the parents having time to talk while waiting for the kids to finish practice. We both got to spend time with friends we hadn't talked to in well over a year. And one of Lucy's friends invited her over to have her make-up and hair done. Those little chances to connect are what make the community. 
And the music was good. A good mixture of classic tunes like "Lollipop" by the Chordettes and "Tutti Frutti" by Little Richard, "old songs" (as the kids would say) like "Breakfast at Tiffany's" by Deep Blue Something. The 90s were sooooo long ago. And songs I had to look up. The very Van Morrisonesque "Mango Tree" by the Zac Brown Band. Who knew? And "Starfish and Coffee" by Prince off of Sign O' the Times from 1987. I've never been a fan of his 1980s production sound, but "Starfish and Coffee" is stripped down and soulful. Sorry to digress, but this is primarily a music blog after all. But I was totally shocked that there was a song that cool on Sign O' the Times. I'll have to check that out. 
So back to Jimmy. I've never been a fan, with all due respect Parrot Heads, but the theme for this year's show was food, and "Cheeseburger in Paradise" was the grand finale, and it was impressive. It is amazing what you can do with kids ranging in ages from 5 to 17 when everyone works together. I'll never hear "Cheeseburger in Paradise" the same way again. 
Administrative note: out of respect for people's cyber-privacy, I haven't mentioned the names of our friends or the coaches or posted pictures. It gets weird asking people for permission, and some people are ok with it and some aren't, and you never know when something will go viral. You know who you are and how much we appreciate you. Frank is an exception because he is a publically-elected official and deserves credit when it is due. He understands the value of the pool to our community and what makes Forest Hills a great place to live. It is much appreciated.