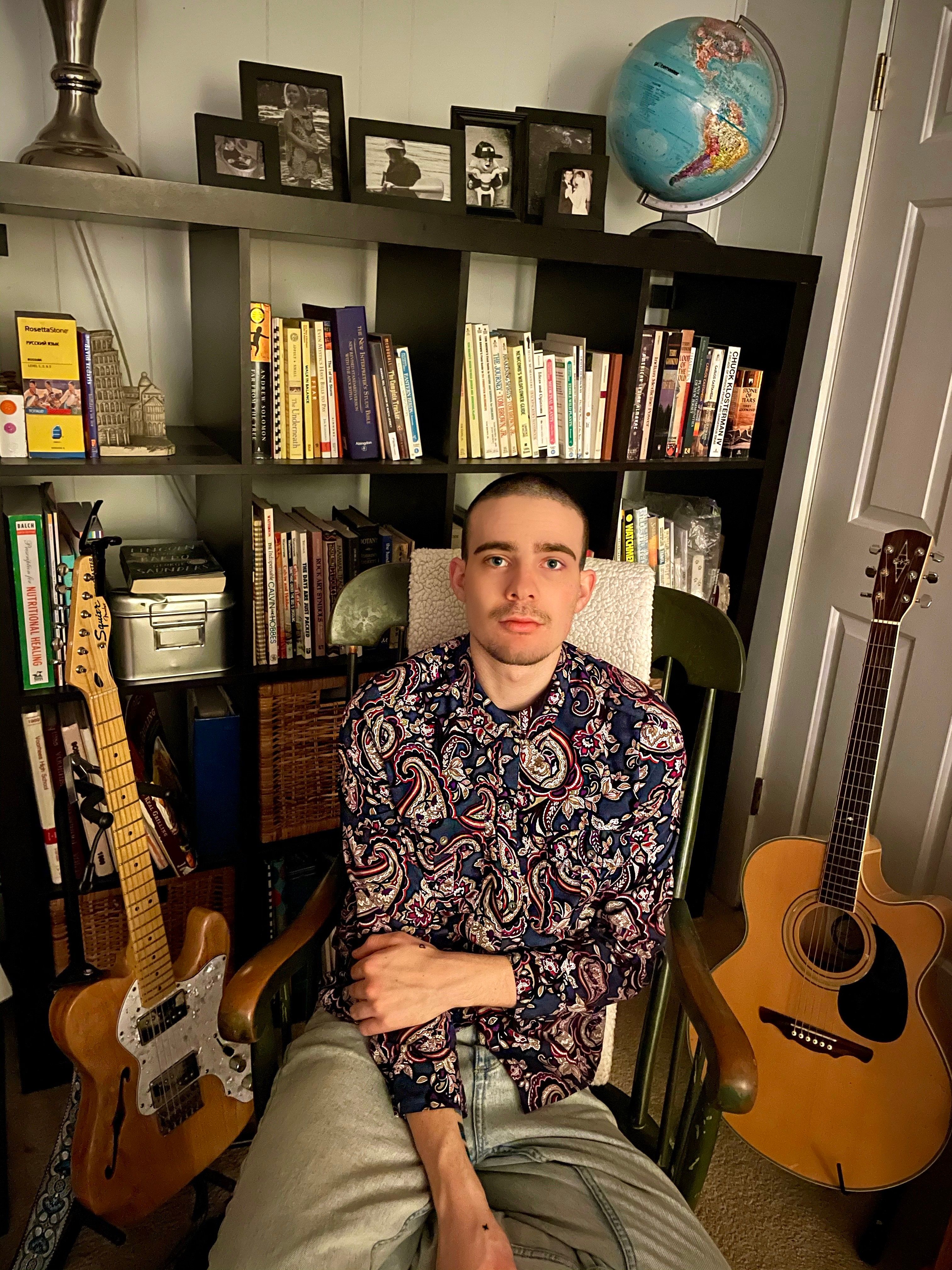 A few weeks ago, a high school friend posted a Bandcamp link to a release by a young artist from Clinton, New Jersey named Avery Stoker called Endersine/Sundance. I grew up only a few miles from Clinton, and some of my other friends praised the release in the comments section, so I took a listen. 
I didn't get the opening track, "Endersine," at first. The heavily altered vocals and instrumentation had me thinking techno. But the second track, "You Kill Me," is a two-guitar, bass, and drums rocker, and Stoker plays all the instruments himself. It was a complete 180, and without the vocal effects it became clear that he can sing with the best of them. How did he generate that intensity without a band? Now I was totally interested. 
The rest of Endersine/Sundance bounces around stylistically and even the songs structures themselves are not predictable. And after a few more listens, "Endersine," makes sense in the context of the rest of the album. Think of Robbie Robertson leading off Music from Big Pink with "Tears of Rage." 
It sounded like a solid debut album. Then there was another surprise. Stoker is in two other bands, Denver Pike and Androcles, and they both have several releases available on Bandcamp. 
Stoker is such an interesting and talented guy, I think it is best just to turn it over to him so you can hear him in his own words and music. But one quick tangent. Pretty much all of the artists that I've interviewed so far have been middle-aged, so I curious how his outlook would be different. I gave him the same questions I've given all of the other musicians I've interviewed. 
Just to ground things, what are some of your influences? Or who would you prefer a compliment from than a packed stadium? 
I would say folk projects like Bon Iver and Broken Social Scene. Justin Vernon from Bon Iver writes in a way that's really more about flow than following a structure in terms of timing, which I've always had trouble with, but wanted to try out for once. I definitely also had M83 and that whole post rock, soundscape-y sort of thing in mind. 
When it comes to 70's elements, my dad and his bands had a sizable effect, not just on this particular record but in general. Also, I had never really messed around with linking different songs together before, save one instance from my band Androcles's debut album, but the way psychedelic acts like Pink Floyd and even krautrock like Faust seemed to just think more so in one continuous body of music than going track by track, it was something that I always wanted to replicate, but never really had the confidence to try it out. 
I had Ween very heavily in mind when I was doing "Writings On The Wall" with John Nemeth's son. Just the way they never take themselves too seriously. They're not afraid to just have fun with the music they're making. 
I feel like I've always worked in these short, intense, stressful bursts where everything had to be rigorous and perfect, but I took that song as an opportunity to just calm down and have fun with it. 
How do you fit music into family life and working full-time? What criteria, if any, do you use to keep things in balance? 
Music has always been a part of my family life, so that has never too hard. The slight downside to this is that, by proxy, someone is always making some kind of noise in the house, so oftentimes I find myself recording out in the garage, which gets a little rough during the off-season. Balancing it with working full time is a little more difficult. It definitely feels like more of a compromise, which my ADHD instant-satisfaction-craving monkey brain doesn't take too kindly to, but at the end of the day, both kinds of work are a necessity. I need to make money and have some semblance of structure in my life, and I need to be able to express myself and let loose. It's not that I have an aversion to real work; I've always found myself able to focus on the things that are at least somewhat interesting to me, but I never saw the point in busy work just for the sake of working. I'm much more comfortable taking time for myself to work on my own stuff than going out and working for something that I feel like I don't get a lot back from. Maybe that'll change when I settle into a career, but for now it's still tough. 
Has your formal education helped? (Where did you go to school and what did you study?) 
On paper I went to Millersville University out in Lancaster, PA, and studied Music Business Technology, but the regrettable reality is more like, "I lived on Millersville's campus for 9 months and was an MBT major, but didn't really go to class and just goofed off and wasted a ton of money." The classes I did go to were interesting and informative (with the exception of World Oceans, which I thought was going to be about exploration and geography, but turned out to be a class on ocean floor geology), and they certainly helped me grow as a musician. I never paid attention to the way I breathed before I took voice lessons, never had a regular band rehearsal until they assigned us a project to put together a set. I still don't know how to read piano sheet music, but that professor did try her damndest. The most valuable thing by far that I got from Millersville were the friends and connections I made. Growing up in Clinton, there's not much of a scene for young musicians outside of coffee shops and bars, but being in Lancaster, I expected to be in Amish country and was suddenly surrounded by cool art and exciting venues and so many people in so many bands I could barely keep track. I'm considering going back to school for linguistics or to teach French, but I'm still working that plan out. 
What role did your family play in pursuing your art? 
My family was always very encouraging and open to the idea of my pursuing music. My dad was the one who showed me it was possible in the first place. I think all of us played an instrument at some point or another except for my brother, so I've always been around it, but never felt empowered to really act on it myself until around the time I was graduating high school and having a pretty rough go of it. My mom (who I remember teaching me "Heart and Soul" on the piano when I was a kid) encouraged me to try therapy, and there I figured out that I needed to more fully take advantage of art as a form of release and as a coping mechanism. My parents have gone so far as to throw a yearly festival in our backyard and let me play it (though it's been a couple years since we've had it), and helped me cobble together a release party for the first Androcles EP on very little notice. They're awesome. My siblings just get mad at me when I sing in the car. They're alright too. 
How often do you play out and where? 
In non-plague times, I can mainly be seen in Lancaster and Philly one to two times a month at places like Chameleon Club, Connie's Ric Rac, The Pharmacy, and the more than occasional basement venue (always a fun time), but COVID has presented the excruciating situation of having to just privately stew in all of my ideas for the various live shows I'd like to be putting on. I've been looking to expand my playing field to Asbury Park and NYC, and down to DC, and I've been daydreaming up a northeastern tour for a couple years, but for now I'm all cooped up. 
How are you able to record? 
I split my production between Logic Pro X on my laptop (for when I want a more complex, involved mix) and GarageBand Mobile on my phone (for when I'm just messing around and making beats or something). Recording on Logic is easy, I just plug in my interface, guitar(s), mic(s), and a MIDI controller, and I'm good to go. GB has a really fun selection of synth patches and drum machines, but it gets a little bit complicated when you want to record external instruments. Luckily, my grandmother got me a tiny little DI that hooks up to my phone, so I use that for guitar, and I just record vocals into a standard headphone mic, which has surprisingly good quality. I recorded the whole album on Logic Pro, with the exception of "LEAVING HOME," which I started on my phone and then finished off on Logic to more precisely track percussion and upright bass. 
Any final thoughts? 
I think that this record is the most honest art I've ever made. It might also be the weirdest. But, you know, everything is paradoxical like that. Everything simultaneously seems to be and not to be, and that's a lot of what Endersine/Sundance is about. I wasn't even going to release it until a rough breakup forced me to put effort into getting along by myself, but now I can't fathom the idea of not having put it out, and I'm so grateful that so many of my friends were willing to lend their hands and voices and help me feel a little less alone. Right now I've got a lot of things on a lot of backburners. Planning the post-pandemic live show for E/S, remastering the first three Androcles records, working on an EP with Denver Pike, maybe even some Soundcloud rap, I don't know, I'm getting a little stir crazy. 
Coda – Author's Note 
This was originally part of my introduction but got cut because I thought it was too much about me, but I think it still deserves mentioning. It's my blog…I can do whatever I want. 
The biggest eye-opener for me was how devastating Covid has been on young artists. Being young carries a heavy load of uncertainty to begin with. A pandemic multiplies that uncertainty exponentially. As I get older, I find myself more thinking about "when I was young." It is easy to forget my own struggles with crippling anxiety in my 20s, going to counseling, taking anti-depressants, and staying in bed all day when a promising relationship had gone bad. 
However, when my Strat was plugged into my amp, either at practice or a gig, the anxiety could never get to me. It isn't like music makes me "feel better" like doing deep breathing exercises or yoga or that it gets the "bad stuff" out of my system. It is something more than that, it is mysterious, and you sound like a crazy person to talk about it. And when you can't do it, it is a major deal. 
All I can say is that if you are musician, playing music is what you are meant to be doing and you are not going to be yourself unless you are making music. How you got to be a musician in the first place is also a mystery and an unconscious choice of sorts. So the next question is how much of your time is spent being a musician? And that is the million dollar question we have to answer continually. 
I'm not smart enough to think of that stuff, so here is the quote from Aristotle's Nicomachean Ethics I'm paraphrasing, "…the function of man is to live a certain kind of life, and this activity implies a rational principle, and the function of a good man is the good and noble performance of these, and if any action is well performed it is performed in accord with the appropriate excellence: if this is the case, then happiness turns out to be an activity of the soul in accordance with virtue."